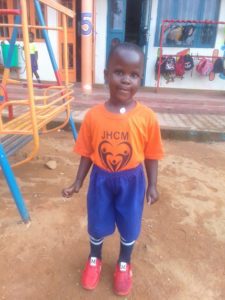 Anitah is a sweet nice girl, always reserved but loves playing with her friends. She loves school but many times she comes to school on an empty stomarch because there was no meals at her home. 
She wants to be a Teacher when she grows up. 
Anitah leaves with her single mother and brother. They have no idea where their father went. Her mother never went to school. After their father leaving them in a small rent house, her mother decided to do hand laundry on the village to get what to eat, clothing's, shelter, medical care.  This kind of job happens by chance as many people do wash their own clothes. Most of the time she moves to look for customers but fails to get. They have meals by luck if God provides, she also struggles taking care of her children because life seems hard to her, and has no parents around her being an orphane. 
I wake up in the morning, do some small chore, i take my bath, and run to school.  At school we eat breakfast, Lunch, and some fruits.  In the evening i go back home, fetch water for my mother, and i go to bed. 
Pray for Amitah to have a sponsor to help her get education. 
Pray for Anitah to find a job to have food in their home
pray for her father to come back.
Please enter student ID to sponsor
Anitah
Student Sponsorship ID:
203055
Once your sponsorship is setup, you can login at your
Donor Dashboard
to send and receive messages with
Anitah