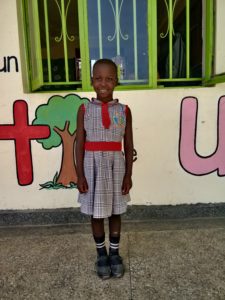 Savendra is a jolly girl, smart and wants to be a Teacher when she grows up.
Savendra has grown up with her grandmother from the time her mother gave birth to her. After her mother giving birth to her, her father was no where to be seen. They live in a single roomed house at the same time her hair saloon (morning is a saloon , evening is a bedroom. ) It has been a challenge for her to raise and educate Savendra and her cousins.
wakes up early morning bathes, puts on uniform and goes to school. She loves coming to school to learn, enjoys meals and associating with friends
God Provision Mummy and Daddy to be back together.
Please enter student ID to sponsor
Savendra
Student Sponsorship ID:
203073
Once your sponsorship is setup, you can login at your
Donor Dashboard
to send and receive messages with
Savendra