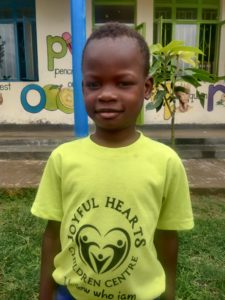 Davis is a happy boy, who loves and enjoys school.
Davis stays with his mother and 3 siblings in a rented house partitioned, part of it is a small retail shop and then a bedroom. His father separated with the mother and the mother stayed with them all. The mother has been overwhelmed with sustaining the family with her shop income which is un-reliable, who comes once in a while.
wakes up in the morning, helped to bathe, puts on his uniform and walks to school. Study, play and eat, walks back home with friends, play, eat and sleep.
food mummy and Daddy to come together.
Please enter student ID to sponsor
Davis
Student Sponsorship ID:
203076
Once your sponsorship is setup, you can login at your
Donor Dashboard
to send and receive messages with
Davis