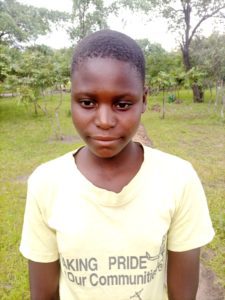 Hello, my name is Kerita Pachikani, I'm 15 years  old. I'm in standard 6. I would like  to become a Doctor when I grow up. i love playing netball and Reading. My favourite teacher is Mathematics.
I live in small village, very far from town and 5 Kilometres from the market. I stay with both of my parents and they are all farmers. I'm the 6th born out of 7 children, 4girls and 3girls.
I wake up early in the morning, help with house chores, take a bath and sometimes at a cup of  tea, then walk to School. I come back at 14:00pm, eat lunch and clean the dishes. Later in the evening, before its dark, I on my assignments if they are any.
Help me Pray for my life and also Seeds of Promise that it should continue it's programmes because we learn a lot from them
Please enter student ID to sponsor
kerita
Student Sponsorship ID:
111006
Once your sponsorship is setup, you can login at your
Donor Dashboard
to send and receive messages with
kerita