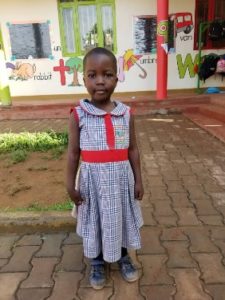 Sheena is a jolly girl, cares for her friends and enjoys coming to school, studying and playing with others.
Sheena's Mom separated with her father, and now Sheena spends most of her time at her grand mother's place so that her mother finds something to do to take care of her family and mother. Raising school fees for her children is a challenge which makes them fees defaulters and becomes hard for them to concentrate.
She wakes up, brushes her teeth, bathes, puts on her uniform and goes to school.
Sheena wants to be a leader when she grows up
Please enter student ID to sponsor
Sheena
Student Sponsorship ID:
203071
Once your sponsorship is setup, you can login at your
Donor Dashboard
to send and receive messages with
Sheena