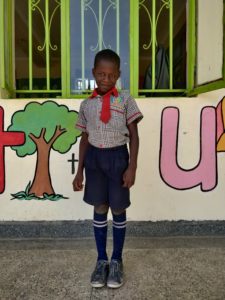 Musa is one of the oldest kids in his class, but loves and enjoying learning everyday. soccer is his game.
Musa' mother dropped him at his grandmothers house one morning when he was one year old and never came back due to the misunderstandings that had rose in their marriage. Musa's grandmother with her 5 grand children stays in a singled roomed house, their main source of income is chopping and selling firewood. She tries to work to see her grand children get education but some times things do not work out as planned.
Early in the morning Musa wakes up, bathes, puts on his uniform and walks to school with his siblings. study, then walk back home, play, and sleep.
He wants to be soccer Player
Please enter student ID to sponsor
Musa
Student Sponsorship ID:
203077
Once your sponsorship is setup, you can login at your
Donor Dashboard
to send and receive messages with
Musa