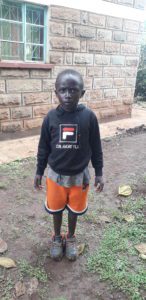 I am Melvin and I am seven years old. I am the last born in a family of five children. We live with in a rental house with my mother and the siblings. When I grow up I want to be a policeman so that I can keep security and also support my mum who does casual jobs to ensure we get some basic needs.
My family and I live in a village which has farms and a small shopping center. In school, my favorite subject is English. My father abandoned us and does not take any care for us. My mother works so hard and also looks for well-wishers to support us, most of the times we are out of school because of lack of school fees.
I wake up early in the morning, prepare for school and take breakfast if there is and then walk to school where I do my studies very carefully and also participate in other co-curricular activities.
God to continue to provide for our daily bread and school fees.
Please enter student ID to sponsor
MELVIN
Student Sponsorship ID:
401030
Once your sponsorship is setup, you can login at your
Donor Dashboard
to send and receive messages with
MELVIN